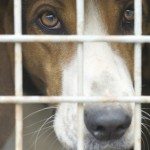 People occasionally are bitten and attacked by a dog after adoption from an animal shelter or rescue organization. As a dog bite expert witness, I have been involved in a number of lawsuits in which an adopted dog attacked and seriously injured its new owner or a family member shortly after adoption. My experience is consistent with news reports on the Internet which describe serious and fatal dog attacks  on people by recently adopted dogs.
Unfortunately, shelters and rescue organizations often do not have background information of the dog, given that many dogs that come into an animal shelter or rescue organization are strays. In addition, even when the dog is turned into the shelter by a person, shelter staff may not be told the complete truth about the dog's behavioral history. Hence, the bite history of the dog cannot be passed onto the adopter. Animal shelters may rely on temperament tests to assess the risk a dog presents for biting a person before adoption, but these tests may be unreliable.
In California, new law CA AB 588 now requires that that rescue organizations and animal shelters disclose to the adopter everything they know about the dog, including any previous bite incidences. Further, this new law requires that animal shelters and rescue organizations to acknowledge in writing that full disclosure about the dog was given to the adopter. Failure to comply with the law could result in the $500 fine.
The the extent to which this new law will lessen these kinds of incidents remains uncertain, however.