The recent filing for bankruptcy in Detroit, Michigan has had an unforeseen effect on the dog population within Detroit. Namely,  many dogs have been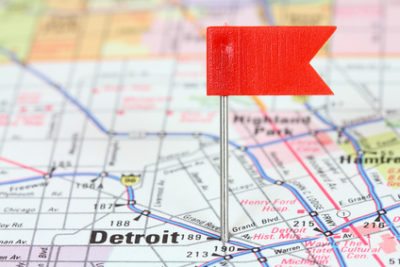 abandoned by their financially strapped owners, and  these dogs have begun to form  packs which are now roaming widely throughout the city.   Dog bite injury to people  has substantially increased in recent months. In one recent dog bite occurrence in East Detroit, a lady sitting on her porch had her scalp ripped off by two stray dogs.
Recent reports indicate that as many 50,000 stray dogs are roaming the streets of Detroit.  Packs of stray dogs have formed dens with as many as 20 canines living in abandoned homes and vacant office buildings. Packs often consist of aggressive male pit bull type dogs protecting females in heat.
In July, the city's animal shelter stopped taking in stray dogs because the crematory  the city contracted with to that pick up euthanized animals was paid. Consequently, dogs scheduled for euthanasia were not killed, and this led to vast overcrowding in Detroit's single public animal shelter.
The situation was summed up by Amanda Arrimgton of the Humane Society of the United States, located in Washington. She was quoted in one news report as saying: "it was almost post-apocalyptic, where there are no businesses, nothing except people in houses, and dogs running around."
Donations can be made to All About Animals Rescue, a humane organization in Detroit which feeds, vaccinates, and sterilizes abandoned dogs.