A 6-month-old infant girl was hospitalized as a result of dog bite wounds sustained in an unusual attack by a 170 lb. Great Dane dog in the Los Angeles suburb of Monrovia, California in December 2010.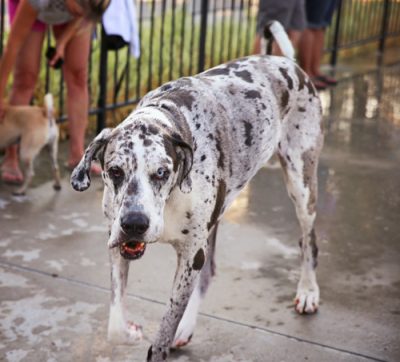 According to  news reports, the mother was standing at the front entrance of a neighbor's home, chatting with the neighbor. She was holding her daughter in her arms. The incident happened when the dog suddenly came from the house and snatched the infant from the mother's arms and carried the infant away. The dog, an adult male named Zack, ran for a distance of approximately 200 feet with the infant in its mouth as it was being pursued by the mother and its owner. After this short chase, Zack dropped the infant and ran back home.
There were no previous documented incidents of aggression by this dog towards people. Police investigating the incident stated: "the dog snatched up the child in its mouth and took off. He didn't grab the child and shake it, but he bit onto her hard enough to cause significant injuries."
The child suffered a lacerated liver and broken ribs. She was flown by helicopter for hospitalization in Los Angeles, and after several days of treatment her condition stabilized. She is expected to recover. Zack, on the other hand, will be destroyed.