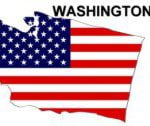 Dr. Polsky served as the animal behavior expert witness in Washington in the dog bite case that went before a jury in Spokane.
Two principal issues were involved in this case: was the plaintiff's injuries caused by a dog bite from the defendant's dog or from her own dog? The second question  that needed expert witness testimony was whether the plaintiff provoked the defendant's dog to bite her.
The value of animal behavior expert witness testimony at trial
This matter went before a jury in  2006. During the proceedings Dr. Polsky took the stand as an expert witness in animal behavior.  Prior to his testimony  before the jury, he explained to the Court why animal behavior expert testimony would be of value to the jury.  The court allowed into evidence Dr. Polsky's testimony about dog bite provocation and the identification of dog bite wounds.
The jury rendered a defense verdict.  Correspondence from the defense attorney who retained Dr. Polsky appears below. The attorney writes about the value of  having scientific animal behavior testimony introduced at trial in civil proceedings in the defense of a dog bite claim.
Dr. Polsky welcomes inquiries from other dog bite attorneys in the state of Washington. Most of his expert witness work can be done remotely including Zoom depositions and report writing. Dr. Polsky will travel to Washington for trial testimony or dog or premises inspections if required.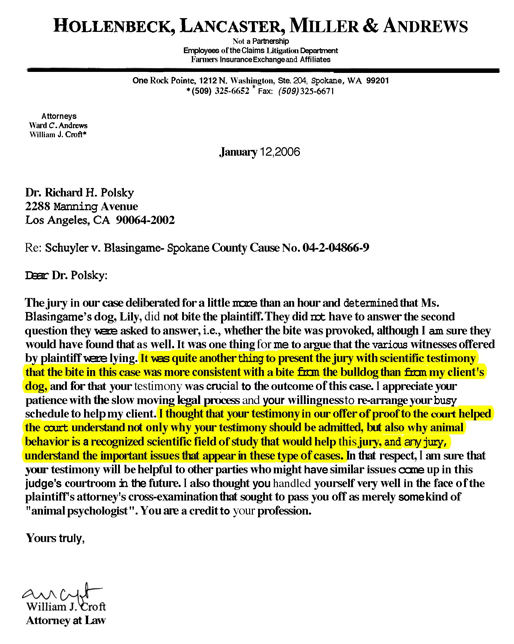 ____
 Washington animal behavior expert, Richard  Polsky, Ph.D. has been retained by attorneys in Washington state on over a dozen occasions. Issues addressed include dog bite provocation, and the identification of canine bite wounds as found in the above-mentioned example. Dr. Polsky welcomes inquiries from Washington dog bite attorneys.